About Us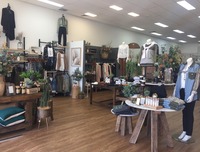 Welcome to Urbanwall!
Urbanwall started out as a womens fashion boutique stocking, Clothes, Handbags, Shoes Jewellery and more, locally owned and operated in Ulverstone, Tasmania.
With the addition of our second store in 2017, we have expanded our range from not just fashion, but homewares, extended fashion range including our beautiful baby range and so much more.
In 2018 we are proud to open our 3rd store featuring our new Childrens range of clothings.
Now by popular demand we are launching our highly anticipated website with payment options of AfterPay, ZipPay and Pay Pal.
Urbanwall Womens Fashion combined with Urbanwall Lifestyle and Urbanwall Junior has something for just about everyone. With a large range of popular and niche products availble to choose from, you will be spoilt for choice!
Please dont hesitate to contact us if you have any question or concerns our friendly staff will be sure to help you.
Please understand we are still trouble shooting the website and particuarly if you have any issues around shipping prices and availability, please let us know as we will work on fixing this to give you the best possible online experience.
Urbanwall Womens Fashion ~ (03) 6425 1800 ~ Shop 28A Reibey Street Ulverstone Tasmania 7315
Opening Hours
Monday - Friday 9am - 5.30pm
Saturday 10am - 3pm
Sunday Closed