About Us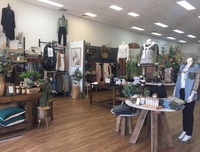 Welcome to Urbanwall!
Urbanwall is a Lifestyle store located in Ulverstone, Tasmania. Kim the owner is passionate about picking out all the beautiful pieces of Clothing, Homewares and sourcing the most amazing smelling Candles and Diffusers around. Urbanwall is proud to be supporting local Tasmanian makers, along with Australian Designed and Made brands when available. Kim opened the store in 2017 after following her passion with fashion and homewares, She loves creating a place for people to come and experience as well as become inspired by all the different areas of the store, creating room like areas so it gives you ideas with colours and what goes back with an outfit or how to dress a room or area in you home, while feeling relaxed at the same time. We love sharing our little passion with all our wonderful customers and hope you love what we have to offer as much as we do.
Please dont hesitate to contact us if you have any question or concerns, Our friendly staff will be more than happy to help. Now by popular demand we are launching our highly anticipated website with payment options of AfterPay, ZipPay and Pay Pal.
Urbanwall Womens Fashion ~ (03) 6425 1800 ~ Shop 28A Reibey Street Ulverstone Tasmania 7315
Opening Hours
Monday - Friday 9am - 5.30pm
Saturday 10am - 3pm
Sunday Closed